Course details
All you can drink ★ All 7 items 【Banquet (Utage) course】 3000 yen Banquet course ★ Main dish ♪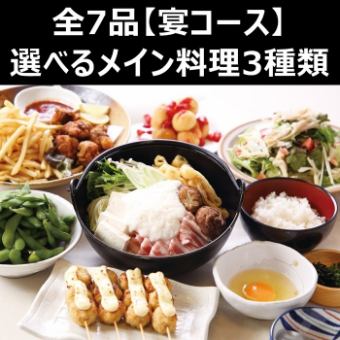 By using a coupon3000 yen
tax included.All you can drink 120 minutes (LO 90 minutes)
All-you-can-drink available

Approximately 90 kinds of all-you-can-drink 120 minutes (LO 90 minutes) ★ As well as beer, shochu high · wine · high ball · shochu · fruit wine · sake · sake · cocktail · non alcoholic cocktail · soft drinks as well as all you can drink · · · plentiful We are!
Reservation deadline

Three days before 22 o'clock before the desired store visit date
Available days for reservation

Monday - Sunday - Public holidays - Holidays
【All-you-can-drink service】 Banquet course of all seven items !!!! It's a course recommended around the pot, ♪ with everybody ♪ It is also recommended course for a preliminary and easy drinking party ★ Main dish you can choose from 3 kinds of pot ♪
Course menu
All you can drink 120 minutes (LO 90 minutes) ★ All seven banquet courses !!!!
◆ Buru main dish (Please choose one out of 3 types)
"Chicken salt chan pot" or "Sesame soy milk and squid pot" or "authentic kimchi pan"
◆ boiled edamame beans
◆ Steamed chicken's green salad
◆ Tsukune cheese skewer
◆ Deep fried food (potato fry, fried chicken fried salt koji)
◆ Dinner noodles or Chinese noodles
◆ Strawberry petit shoe
※ We will receive additional orders according to your budget.
All-you-can-drink menu
·beer
· "Asahi Super Dry" Draft beer (medium) · (Small)
· Shochu high
· ◇ Original Shochu High ◇ Giant Peach Shochu High ◇ Lime Shochu High ◇ Tsugaru Rinkouchi High ◇ Okinawa Shikwasae Shochu High ◇ Yuzu Honey Shochu High ◇ Melon Soda Shochu High ◇ Meishirou High ◇ W Mango Sho High ◇ Mikan Sho High ◇ Grapefruit Shochu High ◇ Calpis Shochu High ◇ Sicilia lemon shochu high ◇ oolong tea break ◇ brown rice green tea crackers etc.
·Cocktail
· ◇ Cranberry Cosmopolitan ◇ Reggae Punch ◇ Coffee Milk ◇ Banana Milk ◇ Cassis Orange ◇ Cassis Soda ◇ Cassis Oolong ◇ Fuzzy Negble ◇ Moscow ◇ Vodka Tonic ◇ Gin Tonic ◇ Jim Buck ◇ Orange Blossom ◇ Screwdriver ◇ Mojito ◇ Fran Gelico Milk etc.
· Shochu
· "Potato shochu" · · · and "Wheat shochu" · · · Yanaka
·Fruit wine
◇ Plum wine ◇ Brown sugar plum wine ◇ Kishu Minami Takumi plum plum wine ◇ Anzu sake ◇ Momo sake ◇ Pine sake ◇ Karin sake
·Highball
· "Black Nikka" ◇ High Ball (Plain) ◇ Black High Ball (Coke) ◇ Gold High Ball (Ginger Ale)
· Japanese sake · wine
· ◇ Japanese sake (large) ◇ Japanese sake (small) ◇ House wine red (glass) ◇ House wine white (glass)
·Non-alcoholic cocktails
· ◇ Melon tonic ◇ Tsugaru apple tonic ◇ Cranberry tonic ◇ Giant peak tonic ◇ Sweet ginger ◇ Calpis giant soda ◇ Calpis lemon soda ◇ Calpis melon soda ◇ Cranberry Calpis ◇ Calpis milk
·Soft drink
· ◇ Coke ◇ Ginger ale ◇ Melon soda ◇ Meow plum soda ◇ Calpis ◇ oolong tea ◇ brown rice green tea ◇ orange juice
2018/12/05 update